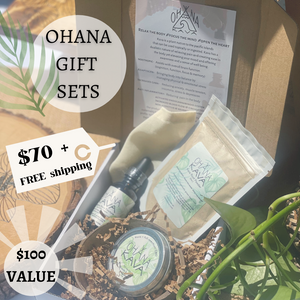 These cute gift boxes can be mailed directly to the person receiving with a personal note from you (write note in the comments when placing your order if this is a gift)

WHATS INCLUDED:
🌱 Healing Kava Balm-  

Amazing anti-inflammatory! Works on sore/tense muscle & joints. Also helps with burns, scars, rashes, etc! 
🌱 Kava/CBD Extract - 

On the go calm for those stressful and anxious moments. Two powerful stress relievers in one bottle! Extracted kavalactones and CBD oil. 
🌱 Raw Kava Root Powder-

This can be used to make your own kava beverage at home in whatever way you choose. Get creative ;) 
* Includes strainer bag! 
🌱 Coconut Shell 🥥 to enjoy your kava in a traditional way. Close your eyes and imagine yourself on an🏝